About Osiris(V) & Chat D'Or Abyssinians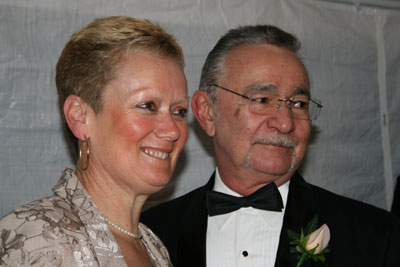 Hi there!! We're Michael and Sue Shawn (nee Jentsch), married and currently living in suburban Brisbane in sunny Queensland. Sue moved her Cattery from Victoria to Queensland and fully expects to keep the same standard of Aby on the bench in the show scene in Qld as she did in Victoria. We are both registered breeders with the Queensland Feline Association and of course strictly abide by the QFA Council's Code of Ethics.
All our kittens are home raised, on vinyl flooring for hygienic reasons in a comfortable A/C and heated environment. Kittens and Mum's have lots of natural light and fresh air they are constantly under foot and pampered with the best care and tons of love. Handled and gushed over from the day they're born imprints them with loving, friendly personalities. Our granddaughter Lola is constantly in the kitten Caboodles pestering the life out of them hence she is our official "Kitten Tamer". Sue being a qualified Senior Vet Nurse, undertakes the monitoring of the health status of all our Fur People. We take pride in breeding well socialized kittens with totally "over the top" personalities. All Fur Babies are QFA Registered Purebred Pedigreed Kittens, de-sexed, micro chipped, 2 x FE3 Vaccinations along with Leucogen FeLV vaccinations (if required), wormed, litter trained and guaranteed to ping at your heart strings. Both Pet and Show Kittens are available POA. Kittens are available to venture out to new homes at approximately 14 weeks depending on vaccinations and socialization.
All of our breeding cats have been tested for PK Deficiency (a hereditary form of anemia). Additionally all breeding cats are tested for PRA, CEP290, FELV/FIV and Tritricamonas Feotus. All cats in our cattery are classified as Normal or Negative.
Osiris (V) and Chat d'Or are always looking afield for new lines to strengthen the Australian gene pool. The past couple of years has seen us import breeding cats from the UK, Germany and the USA. Kemerkat Murphy's Law ( AKA Murf the Snurf) from Gail in New Zealand has just completed his residency and has been retired and returned to Gail who missed him massively. In 2013 arriving from New York State USA came Highgaitpaws American Edition (AKA Ed) special thanks to Mindy and Dave for trusting us with yet another stunning Highgaitpaws child. Of late Michael's sister Dee has been playing nurse maid to our newest imported Russian Abyssinian. He will be the first Russian Abyssinian imported into Australia and finally arrived in February 2016. Keep you eye's open for Abysphere's Alexander Nevsky AKA Lexie he is bound to make a stunning entrance into Australians' show scene.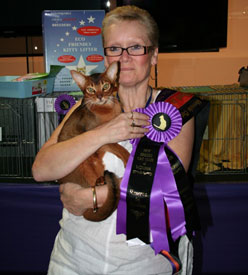 ---
Osiris (V) & Chat d'Or are both long established cattery having enjoyed many and varied successes over the years. Osiris (V)'s successes including such prestigious awards as "Abyssinian Breeder of the Year "consecutively" since 2009. Chat d'Or is an Australian cattery first commissioned in 1989 and breeding both here in Australia and Canada.
Please bookmark us on your computer and visit frequently. We are always updating and changing our web pages in order to reflect the current kittens available, projected litter births, planned mating's.
Additionally from time to time will be offering retired Breeding cats for re-homing so come back often for a visit.
Michael & Sue
Latest Show News......
2015 saw our Cattery being awarded the Australian Abyssinian Breeder of the Year for the 8th consecutive year. In addition Our desexed male Osiris (V) Fast Talker was awarded First Desexed Exhibit and Runner Up to Supreme Desexed Cat. Our little wonder Osiris (V) Elizabeth Arden (AKA LIzzie) was awarded Best Exhibit and Supreme Cat at the 2015 Australian Aby Show, held in Canberra.
We thought Osiris (V) Sammy Davis Junior started his show career out with a bang when he took out the All Breeds Supreme title at the CCCA National in 2013. At the unheard of age of 4.5 months! However 2014 has also started out with a bang as Sammy started off the year with the Supreme All Breeds Feline award at the 2014 Sydney Royal. A first for an Aby and a first for a Queensland cat!!! . Sammy now enjoys an occasional outing while he and his companion Osiris (I'm a Gun AKA Gunny entertain the occasional girl in their fancy stud apartment. (No Champagne thank you!!)
the 2015 Brisbane Royal where Osiris Aby's were on display for 14 days and for the fourth year running an Osiris(V) cats and kittens have scored the highest honors for Group three cats.
A "Six-Up" for Osiris (V) Breeding!!!!
Also at the 2015 Abyssinian Breeder Specialty Show " Supreme All Breeds Desexed Feline of Show" ACF National Premier, ACF Diamond AoE, CCCA National Champion, CCCA Ruby Triple Grand Champion, QFA Diamond Double Grand Champion, CFCCQ & FCCQ Platinum Double Grand Champion, QICC Diamond Double Grand Champion, Cats Queensland Supreme Champion Osiris (V) Fast Talker
Also check out :
In 2012 TICA's 100 top Abyssinians in the world an Osiris (V) cat was placed reserve (2nd) as well as 35th. To see, go to ~ http://ticamembers.org/standing/2012/AB/
August 2016 will see Osiris (V) Kittens and Cats entered in the Brisbane Royal in an attempt to take another Supreme Award for the seventh year in a row........ GO ABYS !!!!!!
A Normal Cat Brain vs an Abyssinian Brain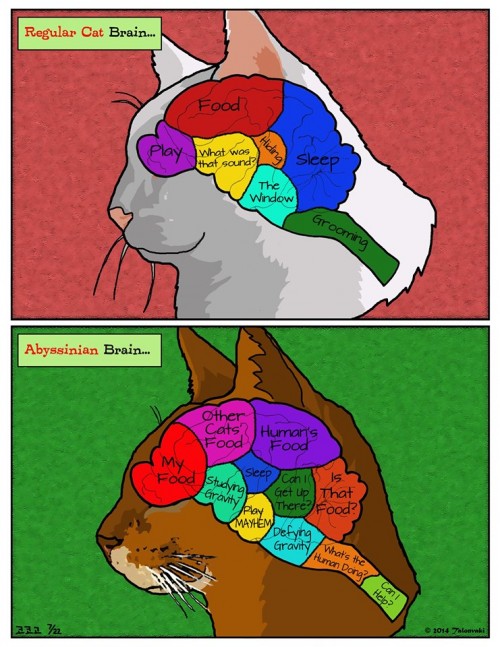 Oh and to our Fur People..
Dear Osiris (V) and Chat d'Or Fur People.
The stainless steel dishes in the laundry room are yours and contain your food. All other dishes are ours and contain our food. Please note, placing a paw print in the middle of my plate and food does not stake a claim for it becoming your food and dish, nor do I find that anesthetically pleasing in the slightest.
The hallways were not designed by NASCAR and are not a racetrack. Beating us down the hall way is not the objective. Tripping one of us doesn't help because we tend to fall faster than you can run.
We cannot buy anything bigger than a king sized bed. We are very sorry about this. Do not think we will continue sleeping on the edge of the bed to ensure your comfort. We are sure you're all aware cats can actually curl up in a ball when they sleep. It is not necessary to sleep perpendicular to each other stretched out to the fullest extent possible. I also know that sticking tails straight out and having tongues hanging out the other end to maximize space is nothing but sarcasm.
For the last time, there is not a secret exit from the bathroom. If by some miracle we beat you there and manage to get the door shut, it is not necessary to claw, whine, meow, and try to turn the knob or get your paw under the edge and try to pull the door open. I must exit through the same door I entered. Also, we have been using the bathroom for years - feline attendance or assistance is not mandatory.
The proper order is kiss me, and then go smell the other cat's butt or lick your privates. I cannot stress this enough!
Your loving humans.