Photos of Osiris(V) & Chat D'Or Abyssinians in their new homes
This page first populated 2/10/2014
(Rcved 21/6/14 - Osiris (V) Australian Made)
Hello Michael and Sue
I thought I would let you know that our beautiful little man is completely recovered. No more snuffles and sneezing. Once again I want to say a huge thanks for your support. He has turned into the most beautiful and loving natured cat I could ask for. He is so clingy and affectionate and laps up the stupid baby talk I say to him. I read that they are not really lap cats but he is never off our laps!!
He has been going on regular trips in the car and seems to love it. I bought a harness for him and am training him with it. The energy he has and jumping ability is amazing. He has grown really fast but still is a sooky baby for cuddles. I have never been happier and my only regret is that I did not get one of these cats sooner!
Please feel free to use our names on any of your advertising as very satisfied cat lovers.
Thanks again and my very grateful thanks to you both
Angus and David (Proud and Loving Parents)
*********************************************************************************************************
(Rcvd 20/9/14 - Osiris (V) Peter Lawford)
Hi Michael and Sue.
Kittens arrived and were both just fine. I helped Brigid with Deano and I'm sure it was love at first sight. Our Peter is having a rest at the moment - big big day for a little cat. His first response when I said hello in the car was a ready pure and I have to say he won me in an instant. He's completely gorgeous. He and Orlando met and chased each other around the lounge room for a bit (he started it) then I separated him because I thought he must be really tired and might get a little overwhelmed. Ali has had a sniff at his case but hasn't seen him yet - we might leave that one for a day or so because he's quite forward and she might be a little overwhelmed by him! We'll take it gently.
Thankyou for all the information you sent. The kitten care has a good amount of info on food. I haven't looked at the documents yet, will look later and complete anything that needs to be done in the morning.
Dai (my partner) fell for him instantly too. I'm very happy to have a house full of cats again. It just seems right. And as I see Somalis really as long haired Abyssinians it is a house full of Abyssinians with a little street cred in Ali. I've attached pictures of Orlando and Ali so you have a picture of who your precious is living with. Dai is a guitarist and we have discovered Orlando loves acoustic guitars. I can't wait to see whether (Peter who may not be Eric the Red but has not then got his final home name) is also a musical cat.
Just to let you know I'm happy and I've got a new big brother. Debra Weddall
*********************************************************************************************************
(Rcvd 26/9/14 - Osiris (V) Frank Sinatra)
Hi Sue & Michael,
Sorry we have been out of touch in the last couple of weeks. It's been a tad crazy. We have named him "Wow" as that's pretty much his personality. He finds everything amazing and wow. Can you watch youtube video okay? If you can, this was taken on day 4. Zest is trying to get Wow to play tug. He's waiting for Wow to latch on. It's very cute. And even cuter when you realize how self controlled my Zest is being. He is seriously high drive and exuberant so it's kind of so cool that Wow is so confident around Zest.
http://youtu.be/2HYujXHy1gM (Click to watch the video)
Wow loves my other boy, as Risk is gentle and wise. Did I send you this pic yet? I think that was on day 2. I will have to get some new pics. Wow is fetching brilliantly. I have started training him to ride a skateboard and he is learning to cope with his harness. He still walks funny but is happy when he is distracted with play.
We are enjoying him so much.
Hope all is well with you all.
Kind regards
Suz, Ken & Wow
(Rcvd 2/10/14 - Osiris (V) Frank Sinatra)
Wow has fit into our family like he has always been here. Our prerequisite was for a kitten that was outgoing, confident, adaptable, affectionate, had spunk and one that would love a life with my high drive Border Collies. He basically needed to be one of the dogs and able to cope with road trips to Dog Sport trials interstate, as did our previous cat who was dubbed "Agility Cat". Wow is ticking all the boxes just as Sue & Michael said he would. Temperament is a priority to us and we have been fortunate to have beautiful temperament Border Collies. Wow is proving to be equally as loveable with a fun, outgoing on-switch and a sweet, snuggly off-switch. This is Wow with my chocolate merle Border Collie, Risk. They are best buddies already. Thank you Sue & Michael for entrusting your little man with us. He's already being trained up with his own bag of tricks and showing how cool the right cat can be. He is such a delight and so much fun.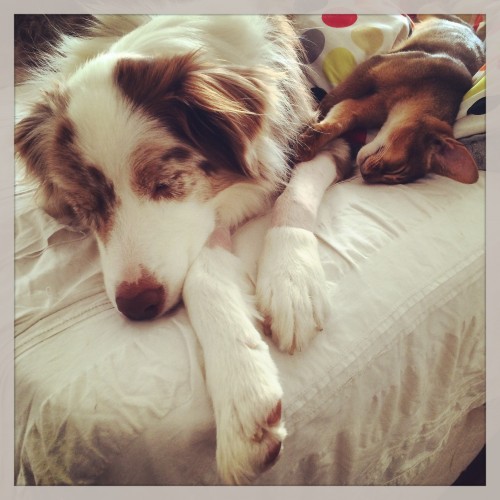 ********************************************************************************************************
Created 5/10/14 - Osiris (V) Fast Talker Too (T2) and his daughter Osiris (V) Influence Reigns Supreme (Parrot)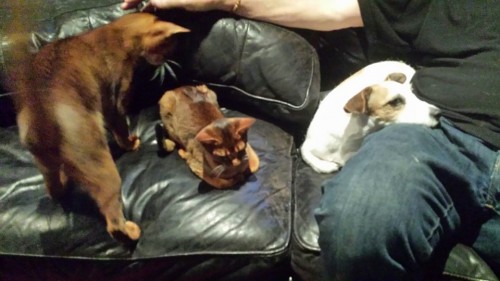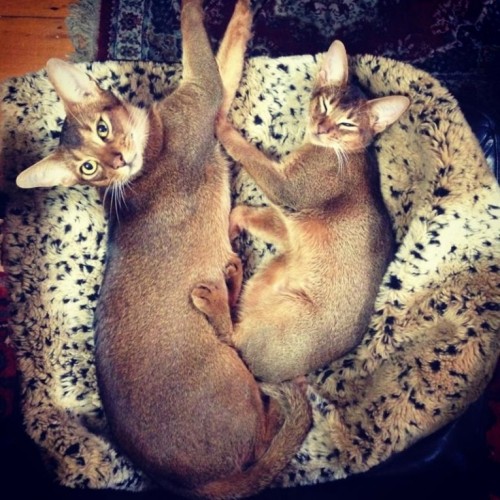 T2 is a de-sexed ex-stud cat that was adopted with his daughter by Annette Hill. T2 and Parrot bonded very quickly with their new Humans however T2 was a bit more stone faced when it came to the two dogs. (Read on)...
"All it takes is a bit of patience and love…..they always come around some sooner than others but they always do…..T2 is a very protective cat…. I'm sure that in his mind he is protecting his daughter and his new humans…unlike dogs cats are much harder to read their underlying motivation it take a great deal of practice and super patience. You guys are to be commended on your dogged determination and obvious love of your Fur Family. Keep the pictures and comments coming."
Dad's and kittens and Mum's and kittens tend to settle a lot quicker than on their own. One could say that's because of the fact there are two of them which is partially true. However in pairs they bond with their new humans a lot faster and are more accepting of their surroundings. An educated guess would say they know each other and that mutual trust is immediatly transferred to their new humans. It's a lovely thing to see new cats and kittens bonding with their Humans ................
************************************************************************************************************
(Rcvd 11/10/14 - Osiris (V) Jazarah Ruby)
Hi Michael and Sue
Just wanted to show you how Ruby is going. She is very affectionate and naughty.... The water bottle is getting a workout.
She gets admiration from everyone, on her temperament and personality.
I hope that you are both well
Kind regards
Rebekah
*************************************************************************************************************