Our Boys
Abyspheres Alexander Nevsky Imported Russia Lexie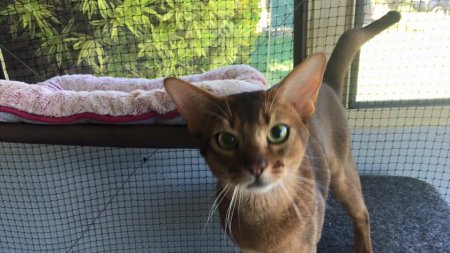 Say "Hello" to Abysphere's Alexander Nevsky imported from St Petersburg Russia and by way of Moscow, New York, Chicago, Grand Rapids Michigan. Where my sister Daidre and son Josh kindly looked after him for 7 months. Then on the Los Angles to Melbourne and finally to Brisbane and home. Lexie is a total "Sook" with a heart of gold and personality to match. he has only been on the show bench for a short period of time and has already gained fame and fortune (or at lest lots of cat crunchies!!!!). His first two offspring are single girls born to separate Mums but there are more to come so stay tuned.
---
Highgaitpaws American Edition (Imp USA) AKA Ed
Sire - Highgaitpaws Limited Edition (USA)

Dam - Detrevande's Chit-Chat (USA)

Born - 16-10-2012



The latest Highgaitpaws boy with thanks to Dave and Mindy for their on going support and confidence in the Osiris (V) name. Ed has had a hard life so far but has produced stunning kittens. Ed managed a parting gift from one of the girls a smack in the left eye that eventually required surgery. Not once, not twice, but three time Anna from Brisbane Vet Specialist Centre transplanted tissue from the back of his eye to the front. Ed is fine now but as a result has to different colored eyes. He has a special kennel in the kitten house where he can spend his days either inside with the Mum's and Kittens or in her own outside run. Ed may produce another litter or two before he is retired to the main house to spend his days in the sun or on the bed. we love you ED you are special to everyone you encounter.
---
Osiris (V) Sammy Davis Jr
Sire - GR CH Osiris (V) Baron Von Richthofen

Dam - Osiris (V) Ballroom Dancer

Born - 16-02-2013



Sammy .....Sammy to stunning for words.... He had the 2013 CCCA National judges all in a thither when at a mear four and a half months he was 2013 CCCA National All Breeds Supreme Exhibit. We look forward to many, many awards for Sammy and eventually some over the top offspring. Go Sammy!!!!!!!
Add one more to start off 2014 The Supreme Allbreeds Feline at the 2014 Sydney Royal. A first for an Abyssinian and a first for a Queesland cat. Sammy has continued to Wow the judges and is curently producing some of the finest kittens for our Cattery. Sam is a pure Mush-Bucket with nary a nasty bone in his body.
---
Osiris (V) Ralph Lauren Ralfie
Sire: Osiris (V) Baron Von Richthofen

Dam: Osiris (V) Prada

Born: 25/09/2012

Tawny

Ralph is very special as a kitten he managed to get himself caught up in the netting of his Mum's Caboodle more specifically by his back foot and a toe. Michael had to cut him loose from the netting while he twisted and turned and howled. At approximately six months of age his toe fell off alas making this stunning boy un-showable. On the good side of the coin Ralph has produced some of the most coloured and stunning Aby kittens anyone has ever seen. He may be missing a toe but he has a heart of gold and temperment to match and the rest of him is super fine!!!!
---