Our Neuters
Osiris (V) Fast Talker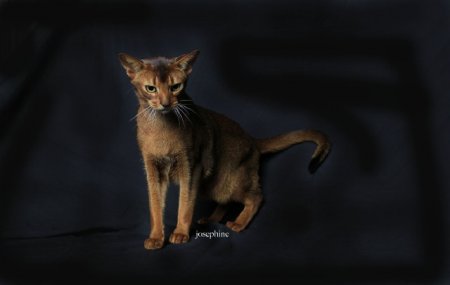 ACF Australian National Premier, ACF Ruby AoE, CCCA Triple Gr Ch, QFA Diamond Db Gr Ch, CFCCQ & FCCQ Platinum Db Gr Ch, QICC Diamond Db Gr Ch, Cats Queensland Supreme Ch Osiris (V) Fast Talker.
Sire: Db. Gd. Ch. Highgaitpaws Have A Chat (Imp USA)
Dam: CCCA Gd. Ch. Sap Gd. Ch. Osiris(v) Running Bear
Colour: Tawny
DOB: 03.07.10
Talker has started his show career with a bang, being placed in every show so far. Many Best in Shows already at the last two Shows the Ballarat Agi Show and the Chandler Tribute Show getting 5 Best in Shows and 1 Reserve from 7 rings.......hot bad going. He is so well named, he has the most over the top and charming personality, so much so, he had to stay!
---
Osiris (V) I'm a Gun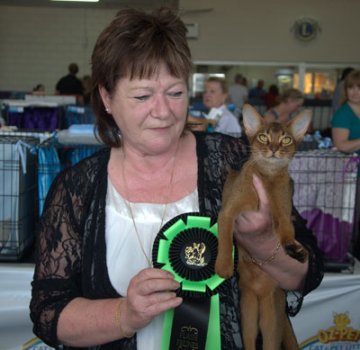 Sire: : Gd Ch Cannonball of Wonderlove (Imp Germany)
Dam: Silver DB GR CH Osiris (V) Chit Chat
DOB: 24.01.12
Colour: Tawny

What can we say about Gunny. More than half of the crowd at the 2012 and 2013 Brisbane Royal fell in love with him. He'd prance about the Whiskers display area showing off just how intelligent an Aby can be and of course allowing all those in arms reach to pet him. We should have called him The Affection Magnet.

So successful was his very first appearance at the Brisbane EKKA that he was invited back to the Whiskers stand for 2013 and has been extended an invitation to also attend in 2014.

---
Osiris (V) Hearts Perfection BatMan
Sire: Kemenkat Murphy's Law (Imp New Zealand)

Dam: Riverfern Zeta Leporis (Imp UK)

DOB: 12/05/2014

Tawny

Batman.....DAA DAA DAA Batman!!!!! 2015 was the start of Batman's show carrear garning him many acolades including Supreme Exhibit at the Anyssinian Breeder Show. his collection of Best in Show awards and Supreme Feline awards are to numberious to list. Needless to say Batman is a bit of a "Show Pony". Batman has just retired from "entertaining" lady cats in an attempt to give us little bundles of Fur just like him. However just a sneeky as the real Batman before his hormones could drop enough he's managed to mate two more females....Oh Oh Batman you've done it again.....DAA DAA DAA Batman!!!!!
---
Osiris (V) Koala Blue (AK Olivia)
Sire: Jodaerin Peter Pan

Dam: Aussie Chick

DOB: 27.09.11

Color: Blue


Olivia the house "sneak thief" should have a little neck charm stating "Steal it first it will taste better". Livie is a quiet and reserved cat that can be found mostly out in the Harbor Bridge cat run sunning herself and trying to figure out how to get the lid of the dry food barrel.
---